The Cost of Cover - what you can do to influence the price of your insurance premium.
The annual insurance renewal is rarely a welcome email for any superyacht owner or Captain to receive, but having a reliable insurance partner who will ensure your premium is competitive and the insurance cover tailored to your individual requirements can certainly make the admin a more pleasurable experience.
Here, we take a look at some of the risk factors and key considerations that determine superyacht insurance premiums, and help you identify conditions of your own cover that directly impact the premiums charged. In simple terms the more information you give your insurance provider, the better informed they will be and the more accurately your insurance policy and premiums will reflect your specific requirements.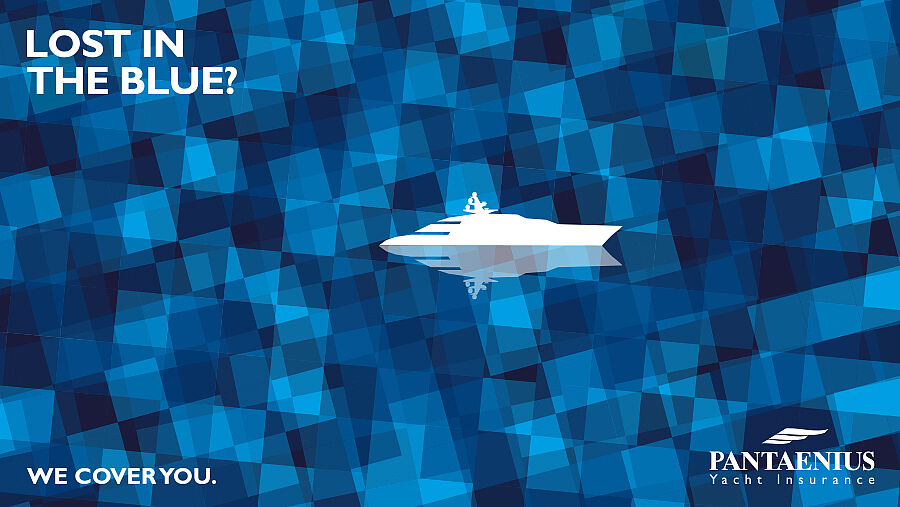 Insured value

To you, your yacht may be worth her weight in gold, but what's she worth on paper?
Owners may be penalised by their insurance provider for over or under insuring their vessel.
Pantaenius offer an agreed fixed value as part of their superyacht insurance policy and in the event of a claim the sum insured will not be challenged or averaged. The insured value will be discussed with you at the start of the policy, taking into account all the relevant history of the yacht. However, it should be remembered that, in most cases, the sum insured has a direct bearing on the amount of premium you pay, so give consideration to the vessel's current market value as well as to the replacement cost.
Ownership, Flag and Class

If you plan to change the ownership structure or flag of your yacht then notify your insurers well in advance. Whilst the nature of the risk may not have changed, all insurers are governed by the licences they have and it may be that your insurer is no longer able to provide cover for your yacht under the new circumstances. Brexit is a really good example of this!
If the vessel's class changes or lapses, then it is imperative you contact your insurance provider. Many policies include wordings that mean insurance cover automatically ceases in the event of a yacht falling out of class.
Technical specifications

Along with the obvious details such as year of build, shipyard, length, engine size and gross tonnage, your insurance provider will need the full scope of technical specifications. Any gaps or inaccuracies in this information could result in an inaccurate reflection of your needs.
Where are you going?

All too often, an owner, captain or yacht manager will specify that worldwide cruising cover is required when, in reality, the yacht will stay in the Mediterranean or shuttle between Europe and the Caribbean with the seasons.
Whilst it may take 10 minutes of your time to advise your insurance provider of an intended location change, adapting the policy to suit your more adventurous cruising plans as and when they arise, could save you money in the long run.
Is your yacht up to the job?

Keeping your yacht ship-shape is best practice in any case, but with older vessels or those that have been a little unloved, consider having a survey carried out to show the yacht is fit for use and share the survey results with your insurer. If there are any survey recommendations, you should also let your insurer know when you plan to have them rectified.
Other considerations, if you are planning to cruise further afield, include whether the yacht is ice classed, whether piracy cover is required for high-risk areas, and whether all other amendments/precautions with regard to the yacht's safe passage and operation have been taken into account.
Thinking of a new look?

If you have refit works planned or a significant maintenance period within the next 12 months, advise your insurer at the time of renewal. Not only may your policy need amending to cover you for the work, but many insurers will also require sight of the shipyard's insurance policy and protocols for hot works etc. This is particularly important if you are asked to sign any waivers of rights of subrogation.
Who's onboard?

Many crew policies charge a premium "per capita" so it's important that you keep insurers informed of accurate crew numbers. If you ever employ day workers, this should also be flagged with your insurers.
What's onboard?

It's important to advise your insurance provider of all toys and tenders, including submersibles, ROVs and drones that are aboard the yacht from one year to the next.
Changes to the number and individual value of these items could affect your premium – as will changes to their use.
Every Captain has a story

The claims record of the Captain will also be taken into consideration. If your Captain is prone to bumping bows in the marina, make sure that your insurers are aware. This could affect whether insurers approve the Captain to skipper the yacht at all. As with all things, honesty is the best policy.
Private or charter?

Does your policy provide cover if the yacht is being chartered with a skipper? If it does, and you are going to offer the yacht for charter, then that's fine but if you don't plan to charter, you may be paying a higher premium for this aspect of cover when you don't really need it.
Past claims

If you've got a yacht that's prone to problems or have previous P&I or crew welfare claims, these may also be affecting your premium. Most insurers will want records from at least the last five years so make sure the information you provide them with is as complete and accurate as possible. Skeletons have a habit of breaking out the closet!
Any claims made on your policy year to year may have an impact on your renewal premium, but options are available. Discuss having a higher deductible with your insurance provider; this could help reduce the annual premium and may give you a clearer guide as to when a claim is worthwhile.
For more details on insurance products from Pantaenius, to discuss your existing cover or receive a free no-obligation quote, please contact us.