On a perfect sailing day in the summer of 2020, delivery skipper Pete Green was sailing off the south-west coast of Spain. Green and his crew were delivering an Amel 52 from Gibraltar to the UK and all was going smoothly when, suddenly, the yacht's rudder spun uncontrollably from side to side. They had been hit by a whale.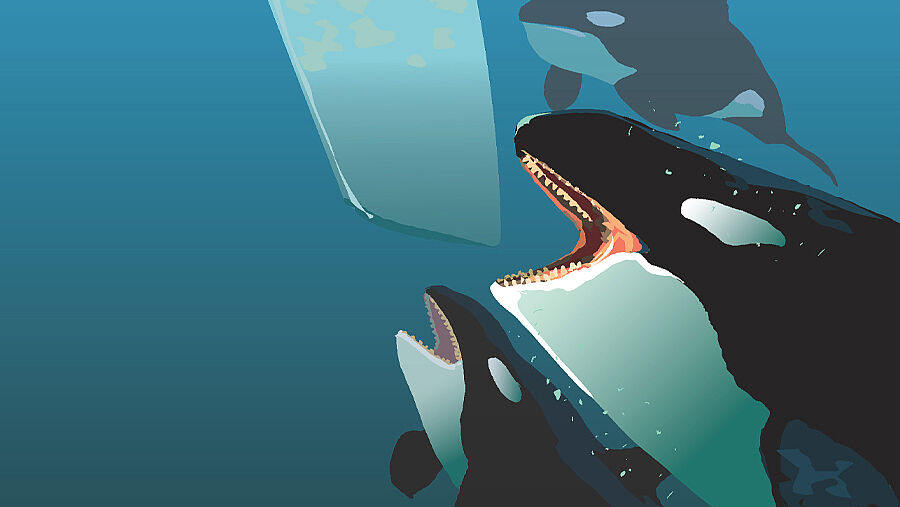 "We knew there was a risk of meeting some orca [whales] so we stayed close to the Spanish coast, but we didn't see them coming," says Green, managing director of Halcyon Yachts. "The wheel was just suddenly spinning from left to right as they collided into the rudder." The crew immediately turned off all the electrics, shut down the engine, furled the sails and lay ahull. All the advice they had seen said to sit passively in the water until the whales grew bored.
The orcas circled the Amel slowly for nearly two hours, so close at times that the crew were able to photograph and video the animals. The whole time, the orcas were bumping into the hull, the keel and hitting the rudder. "It seemed like an age before they finally left us in peace," said Pete Green. By the time the whales were gone, the rudder had been badly damaged.
"In some ways it was amazing to be so close to these magnificent creatures, huge and elegant. But it was also frightening knowing that they have the power to cause serious damage. If the rudder had been destroyed, we would have been left drifting with no control. Luckily, we still had a tiny bit of rudder left, just enough to hold a course and make for shelter," he explained.
Incredibly, this was not the first time Green had been on a yacht attacked by orcas. A year earlier, while close to A Coruña, on the northwest corner of Spain, the Hallberg-Rassy 36 he was delivering to the UK was "rammed at least 15 times". The yacht lost steering and had to be towed into port.
Why are these whales targeting yachts? How widespread is the problem, and should we be more concerned about our interactions with marine animals?
ATTACK OF THE KILLER WHALES
Close encounters between killer whales and yachts were rare occurrences until something very strange happened in 2020. The behaviour of a small sub-population of orcas off the coasts of Atlantic Spain and Portugal suddenly changed. They began to attack yachts aggressively, often causing serious damage to their rudders.
The behaviour kept being repeated, and attacks spread as the orca population travelled north on its habitual migratory route north along the Iberian Peninsula to Galicia, where they feed on bluefin tuna, and nurse their young.
Dr Ruth Esteban, a marine mammal researcher who works for the Madeira Whale Museum, has spent years studying the abundance, life history and social structure of killer whales in the Strait of Gibraltar. The group of whales in question is a small one, just five pods comprising 28 individuals. It is an endangered sub-population she knows well. She was both fascinated and alarmed by this bizarre evolution.
"The orcas were more than used to being surrounded by vessels, sometimes hundreds of vessels at a time, but were never as far as we knew touching the vessel," she says. "Then when 2020 arrived, after the worldwide lockdown, [this] disruptive behaviour was observed. They were reported interacting with boats and entering in contact with them, particularly sailing boats, resulting mainly in breaking the moving parts of their rudders."
Dr Esteban collected and reviewed videos taken on board some of the yachts that had been targeted and damaged, meticulously identifying each animal where possible and reviewing the whales' behaviour. They were mainly juveniles, but there was at least one adult involved, the mother of one of the younger animals.
She observed that they were purposely attacking boats and trying to push them around, hitting and moving the rudders to turn the boats. "We could see the animals come close to the boat at the stern. Sometimes they showed up with intense bubbling. They would approach and start by observing moving parts before touching and pushing to control the movement of the boat."
The whales mainly targeted sailing yachts under 15m, although some fishing boats, RIBs and motorboats were also attacked. In one case, they broke a yacht's rudder in half. In another, a yacht crew endured repeated collisions for over an hour as the orcas repeatedly struck their rudder, breaking it and bending the stainless steel shaft by almost 90°. "The cost to repair was almost €21,000," says Dr Esteban.
A group was formed to investigate this behaviour, Grupo Trabajo Orca Atlántica www.orcaiberica.org). "In the middle of this craziness we created a working group formed of all the NGOs, institutions and administrations," Dr Esteban explains. Various entities such as Sea Life, WildWatch and the Cruising Association collaborated to share information, photos and videos. "It was an incredible unpaid effort from a lot of people," she says.
GT Orca Atlántica continues to collate information on orca attacks, plot where they occur and promote the conservation and management of the whales. It also offers advice aimed at mitigating damage to yachts or the animals themselves.
But Dr Esteban and her colleagues are still mystified about the reasons why. "Everyone is puzzled. We don't know what is going on and we do not know why they are doing this. There have been a lot of hypotheses but none of them is based on clear evidence."
The behaviour, though sporadic at first, has become an established set piece for the whales, and it has evolved. "Now they are repeating this behaviour over and over again, the same population," says Dr Esteban. "At the beginning it looked like it was only sailing boats but now they are looking for different things and targeting a lot of different types of boats with different characteristics and materials."
In 2020, there were 43 recorded interactions with sailing yachts, of which 31 resulted in damage. Similar numbers were recorded last year, and in 2022 there have been 18 interactions up to the end of May. There is no sign of this behaviour fading.
So what can boat crews do? The best advice so far is to stop and make your vessel look unexciting, to try to quash the whales' prey drive. Take your hands off the wheel or disengage the autopilot to allow the rudder to turn freely. GT Orca Atlántica also advises not to yell at the animals, throw anything at them, 'and do not let yourselves be seen excessively from overboard'.
Crews are also advised to discreetly record any interactions and report the sighting and position to organisations such as GT Orca Atlántica or the Sea Watch Foundation www.seawatchfoundation.org.uk.
WHERE CAN I SAFELY WATCH MARINE MAMMALS?
From a wildlife perspective, however, reports of whales are a good sign. Stronger protection for marine mammals has been needed for most of the last century, after the whaling industry decimated breeding populations. In fact, orca groups off the coast of Spain are so scarce that they are designated as vulnerable by Spanish authorities, and endangered by other monitoring studies.
After years of reports of marine mammals as a potentially dangerous nuisance, a new generation of sailors and boat users is alive to the reality that this is their environment and it's up to us to behave appropriately around them, and avoid when necessary and if possible. Beyond being a neutral influence, there are things that boat users can do that may have a positive impact on wildlife and increase scientific understanding of the marine environment.
There are many places in the world rich in whale and dolphin activity where you can travel or sail to watch them safely in the wild. Some of the biggest hotspots include the Azores and Canary Islands, the Dominican Republic, Baja in California, and Mexico, Alaska, Norway and New Zealand. You are also likely to see whale and dolphin populations around the western coasts of France, Spain and Portugal and further north off western Scotland and Ireland. There is an active, though declining harbour porpoise population on Germany's North Sea coastline.
Watching these populations is an experience that boat owners are in a special position to enjoy, and there are some very good guidelines online of how to go about it.
According to Whale and Dolphin Conservation (uk.whales.org), we should keep our distance, 'allow the whales and dolphins to decide what happens', maintain a steady direction and slow to 'no wake' speed. It is also advised never to approach whales and dolphins head on, move between them or scatter them and to take special care if you see mothers and young. If whales are feeding or resting, leave them be. 'They are particularly sensitive to disturbance,' says the WDC.
Don't do the Instagram thing and try to swim with, or touch, whales or dolphins. This is as much for your safety as theirs. Don't go ashore in places where you know there are nesting seabirds. As with so many areas where people and nature crossover, the motto is: look and enjoy, but don't disturb.