Neutralising the ecological footprint of the superyacht industry
Pantaenius has joined the Water Revolution Foundation (WRF). WRF director Robert van Tol, Feadship CEO Henk de Vries, and Pantaenius' Martin Baum sit down together to talk about the WRF's mission to lead the way in neutralising the ecological footprint of the yachting industry and the steps to take.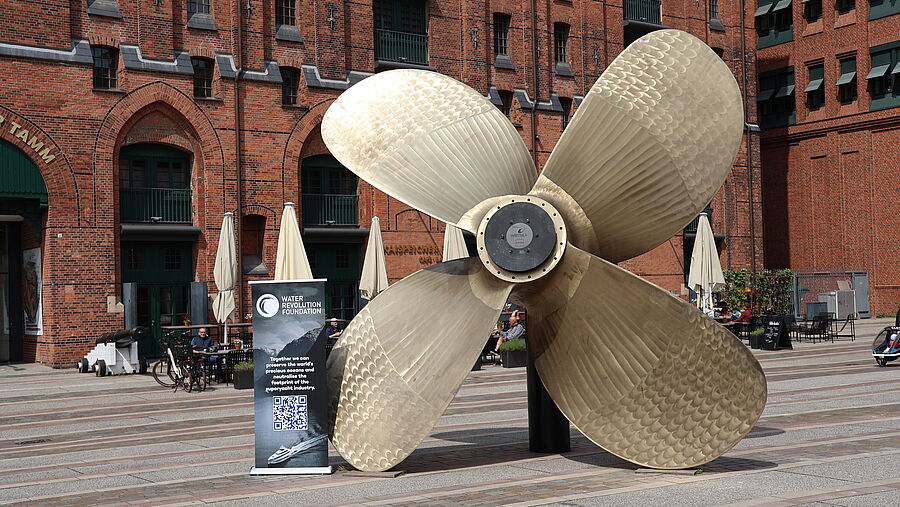 Robert, you're the director of the Water Revolution Foundation. Please explain the idea behind it.
Robert van Tol: The Water Revolution Foundation (WRF) is a collaborative platform to do and succeed in two things that can no longer be seen separately. One is the reduction of the environmental impact of the yachting industry, both the product and the process. The other is that we need to take better care of our oceans as we all directly depend on their health. Only then we will have a future-proof and proactive sector.
Martin, you've recently decided to support the WRF. Why?
Martin Baum: We have only one world, one ecosystem, and one sea. The oceans are the foundation of all our business models. Of course, we want to be altruistic and save the world but, on the other hand, we also have to make sure our businesses are viable long into the future.
Henk, you're the founding chairman of the WRF and CEO of the Feadship de Vries Shipyard. At the latest Superyacht Forum, four years after founding the WRF, you said the superyacht industry will "adapt or die". Can you please explain, from your builder's point of view, what you mean by that?
Henk de Vries: It was a remark I made when the chairman of the session was trying to get the audience to understand the level of urgency. There were some very polite, general remarks that we needed to be cleaner. So I said that if we do not clean up our act, we have no reason to exist seven years from now. I think by 2030 that as industry we should have stopped building 'dirty' yachts. If we don't do that, we make an unnecessary product for which we use very scarce resources. On top of that, the energy used is being done so in an unclean manner. We have to stop leaving footprints.
The WRF will lead the way toward neutralising that footprint. Robert, can you break down what parts contribute to that footprint?
Robert van Tol: To do that, we need a life cycle approach. It starts with design and build, sourcing sustainable materials and optimising for the operational lifetime of a yacht and the end of life for onboard components. In yachting, especially with larger yachts, that end of life is rarely seen. With good maintenance and refit programs, it is constantly being extended.
The operational life of yachts comprises sailing, anchoring, and time spent in the marina. Sailing is about 10 per cent of the time, anchoring a bit more than 30, but more than 50 per cent of the time is spent in the marina. We need to significantly bring down the energy consumption. And if alternative fuels can bring down the operational impact, impacts in the build and refit phases become relatively higher. Therefore, the life cycle approach is our religion at the WRF.
Henk de Vries: We've done a lot of research into the footprints of our yachts over their lifetime. The whole construction period plus the refit work you do along the way is not even 10 per cent of the total. The fact that more than half of the energy you use is when you're sitting still is completely different from commercial shipping. That unique profile means that you need a dedicated measuring device to judge the footprint of yachts.
Martin Baum: We don't want to greenwash the matter. But it's very hard to find any factual basis in this market. WRF have presented a database of sustainable solutions, and it is a tool that really looks at data in a scientific way and provides you with clear facts. Otherwise, people claim they have a green yacht simply because they use recycled paper and have no plastic bottles on board!
Henk, I'd like to know what technical solutions you implement at the moment to reduce the footprint in the operational phase.
Henk de Vries: We offer all the boats with what we call the 'electric drive'. They use combustion engines to make electricity, but you can dose the electricity to the requirement of the drive at that time. Most superyachts are enormously overpowered. That means they're never going at top speed, they are burning at a very slow rate and hence are very polluting. Generators you can load up properly and match the supply to the demand. That's step one. You immediately save 5 to 15 per cent on emissions.
That doesn't sound like very much.
Henk de Vries: Well then, the second thing you can do is to use biological fuel. That's a fuel you can burn in diesel engines without modifications. In shipping, that biological fuel is not even good enough for 1 per cent of the complete demand. However, the total need of yachting as an industry is relatively small. The entire fleet could sail on that fuel and have a resultant reduction in CO2 emission of 80 per cent. The final component of the setup, is a large battery bank that you use as an energy buffer. When even your smallest generator is too big for the demand the excess energy goes into the battery bank.
Robert van Tol: We see the yachting sector as a strategic one. We work for an incredibly powerful clientele. If they put their power behind the infrastructure of alternative fuels, they could give an enormous boost to its availability. And the yachting sector is flexible and customised enough to be at the forefront if we all work together and really push hard.
Henk de Vries: We convinced a couple of people during Covid. After that first start, people are becoming afraid that friends might ask them if they still have one of those smelly yachts. At least, that's what we're trying to emphasise! I think some of our competitors are underestimating how quickly the world can change.
Martin Baum: We've just seen the Last Generation movement spray-paint a private yacht. It's becoming socially unacceptable to use resources in an unsustainable fashion or without understanding and limiting your impact.
The WRF provides tools for its mission. Robert, can you give us a quick run through them, please? What is the yacht assessment tool doing?
Robert van Tol: The yacht assessment tool is combining environmental databases on the impact of materials with the process to turn, for example, a pile of steel into a hull. One doesn't need to change the material, but there are opportunities to reduce impact by the use of a percentage recycled material and of course the production process and transport. This is also something that large companies like shipyards will need to start reporting on under the new CSRD directive in the EU from January 2024.
A yacht's operational efficiency is tackled through YETI. That stands for Yacht Environmental Transparency Index (Yeti). There are 11 yacht builders working together with four naval architecture studios and three research institutes. YETI allows you to translate the impact into a score, it's transparent and comparable. Think of it like an energy label like that we're used to seeing with our houses. These days, one cannot sell a house without an energy label.
But we don't just want to measure the impact. The score is the starting point. As Martin said, greenwashing is a big threat. It's really important that we understand whether we make the right decision and not just shift impact from one stage to another. We want to help suppliers that have real solutions and put them in the spotlight. But in order to do that, we need to do an assessment. When verified to be better than existing business model or solution, they will be promoted through the Database of Sustainable Solutions.
Talking about solutions – Martin, please explain how Pantaenius wants to incentivise a greener way of yachting.
Martin Baum: As the insurance provider, you're always in the background. You're not there when the owners make the decision of what boat to buy. But one thing they all have in common is antifouling. We have over 100,000 clients. If we could encourage each of those yachts to use a biocide-free antifoul, that's an enormous impact that we could have as a company.
What we've done so far is join the WRF, firstly, to get some scientific data on what antifouling works best. Secondly, we've been lobbying with the government to implement regulation in this field. We hope the regulators will help us - in Sweden, for example, on the east coast biocide-free antifouling is already the standard.
Thirdly, we are looking at all kinds of technical options to solve the problem of antifouling use, whether it's with technology such as a cleaning mechanism or a combination of biocide-free paint with a cleaning operation. We like to lead. Eventually, we might even come to the point where you would get a more favourable premium if you used biocide-free antifouling. We know that insurers have financial funds to support sustainability projects.
Robert van Tol: That's great because the power of the insurance world is tremendous and it can help us push beyond regulatory requirements into real-time implementation. If there's an environmental disaster, it's also a disaster for insurers; this can have an impact on premiums. In the end, the damage to our society from climate change will at some point not be insurable anymore.
Martin Baum: Excellent point.
Henk, what role can Feadship play in the transformation of the superyacht industry?
Henk de Vries: We're working on hydrogen propulsion. There is a yacht coming that will have the largest fuel cell in existence. It will have autonomy that will allow it to sail for an extended period of time. It's not enough to cross an ocean, so you still need a regular combustion setup to do long crossings.
The big change we are all looking for is alternative fuel. It looks like hydrogen is potentially the cleanest. The supply is for the industry at large to solve. What I'm doing is creating a clean demand in a part of the sector.
We can build boats with electric drives and power generation in boxes. That means you allocate a square room. Once you have a better engine, you take the generator out and can stick something else in. We are currently building one of the new generation boats that will come out in a year's time. Already we are planning a refit in about two or three years when new technology comes available.
To conclude, what do you think will be the state of the industry in four years' time and what will we have contributed to change?
Robert van Tol: I think we will see tremendous steps in the used boat market. We see an uptake in clientele requests for environmental credentials of the yachts. Apart from transparency, we need a different design language. It's not always about the number of cabins and sun decks, but it's not yet always about consumption, sustainable materials and a closer connection to the oceans' health. The most pressing thing is that we create a level of awareness and positive force for change.
Henk de Vries: I think if I have a dozen of the leading players in my business alongside me, then the others have no choice. For shipping, the ocean is the highway. And the highway is sometimes not very pretty. For yachting, the ocean is the backyard. And you're not going to sit in your backyard if it smells and if it's dirty. So it's a no-brainer that you must have clean seas.
Martin Baum: I think there are going to be more recyclable GRP yachts. There are recyclable fibres and resins already in use. I think the whole idea of recycling and refit is key for this industry.
Henk de Vries: I have an idea. There are a lot of old yachts out there and some of them are very dirty. Within Feadship, we have our heritage fleet. It is relatively easy to electrify. I see a fantastic recycling market in bringing those boats back into the future. Maybe Pantaenius can even give the owners a discount on their insurance premium if they electrify?!
Martin Baum: Fantastic. I fully support the idea.
Gentlemen, that was very interesting. Thank you very much for your time.
Interview: Jan Maas, Pantaenius Hamburg
Further interesting articles