Labels, Storage & Insurance
Wine cellars and wine storage aboard superyachts is becoming increasingly sophisticated. A wine cellar can even be a statement design feature, but any expert will tell you that open water and wine is not a perfect pairing. In this article, we take a look at the safest storage options and how you can best protect valuable vintages.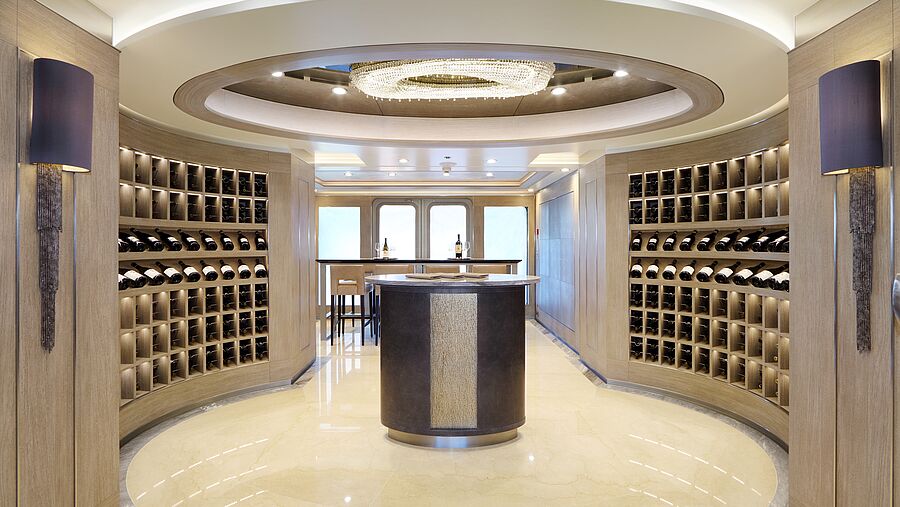 Overflow wine for a particularly boozy charter may still occasionally find its way to hidden storage spaces like the bilge, but onboard wine cellars are becoming increasingly sophisticated — and, in some cases, a statement design feature in their own right. "Many owners today want to make selecting and pouring the wine part of the whole superyacht experience," Marc Jessing, head of yacht interiors at Lürssen told The Robb Report in 2021. It's a trend that makes sense. After all, as highly trained chefs with Michelin backgrounds bring their gastronomic techniques to a yacht's galley, it's natural for the wine list to be similarly high-end.
SERIOUS COLLECTIONS AT SEA
So, what exactly are the types of wine you'll find inside a cellar at sea? "There is always a core demand for vintage Champagnes like Dom Pérignon and Cristal, Grand Cru Burgundy and of course the First-Growth Bordeaux and Super Tuscans," says Jessica Dunnett, an exchief stew who, along with her husband Ed, founded Antibes-based business Onshore Cellars to supply wine to yachts in 2015. For
red wines, that means fine and rare names such as Château Mouton-Rothschild, Château Haut-Brion, Château Pétrus, Domaine de la Romanée-Conti, Sassicaia and Ornellaia. In terms of white wines, there's a distinct preference for rich yet nuanced Chardonnay from producers such as Domaine Leflaive in Burgundy, quality Sauvignon Blanc from Sancerre or Pouilly-Fumé or, from across the border in Italy, a crisp Gavi.
"We sell Provence Rosé in huge quantities throughout the summer," Dunnett continues. The pink drink has long been the wine of choice on summer afternoons cruising the Mediterranean, even before labels like Brad Pitt's Château Miraval started to appear in bars from New York to Shanghai. The preference list remains fairly predictable when it comes to rosé: Domaines Ott, Château d'Esclans and Château Minuty are firm favourites.
Dunnet makes a distinction between two very different onboard wine scenarios. "There are the wines for the boss or the wines for a charter guest," explains Dunnett. "For private yachts, we would normally top up the cellar a few times a year and often we are just replacing bottles that have been drunk." Whereas a charter wine list will have a more expansive, celebratory feel. "They must buy what they think they will drink in a week, and as it's a holiday for them they do like to buy very expensive bottles and specific vintages," she continues.
SHORE UP YOUR STORAGE
As yachts like Endless Summer demonstrate, it is possible to recreate your home cellar at sea. But wine professionals will be the first to tell you that open water and wine aren't perfect pairings. "Ideally, wine should be stored at a constant temperature in a relatively humid environment, away from any strong light sources and free of vibrations," explains Sarah Jameson, a fine wine consultant at The VSF Group. "Particularly in terms of this last one, it would be hard to think of a worse place to store wines for any length of time than on a yacht." Jameson explains that the constant movement of the vessel, along with the vibrations from the engine, are a combination that can trigger the premature aging of the liquid inside the bottle over a long stretch of time, something worth considering for permanent yacht wine collections.
"In the short to medium term though, two of the main things to think about are temperature and light," Jameson continues. "Ideally, the temperature should be somewhere between 10 and 20°C but the most important thing is to ensure a constant temperature and to avoid big fluctuations." She recommends caution when storing wines by a door that sees heavy use, near appliances that give off heat or near a window. "Try to limit exposure to light as much as possible and, if storage allows, it's best to keep the wine boxed," she says.
PROTECTING YOUR PASSION ASSETS
Just as you can take measures to ensure your wine is stored correctly onboard, you can also take measures to protect your collection in case of accident or misadventure. As with provisions and fuel, wine is usually covered under the yacht's hull insurance against external causes: damage resulting from bad weather or a collision, grounding and theft (with visible signs of entry). Proof of value, such as invoices, would need to be provided in the event of a claim; it's also important to remember that any claim would be subject to an excess.
"Similarly to other assets such as fine art and antiques kept on board, it is important for yacht owners to consider the risks of damage that might not be covered by the yacht's hull insurance," says Pantaenius' Michelle Van der Merwe. "If there are expensive wines being kept on the superyacht, the owner could consider separate fine wine insurance which may be able to cover the wine whilst in transit, the loss of resale value due to labels being washed off, and compromised quality that could potentially be caused by the failure of the fridge or airconditioning."
For further information on insurance policies for any high-value wines you may have onboard, reach out to the Pantaenius team today.