Decarbonising Superyachts
Sustainability is a question that is now raised almost every time a new yacht is being built, and superyachts are no exception. The drive for greener yachts is gathering pace, coming partly from forward-thinking owners who want to play their part in a cleaner world, and travel at sea more quietly.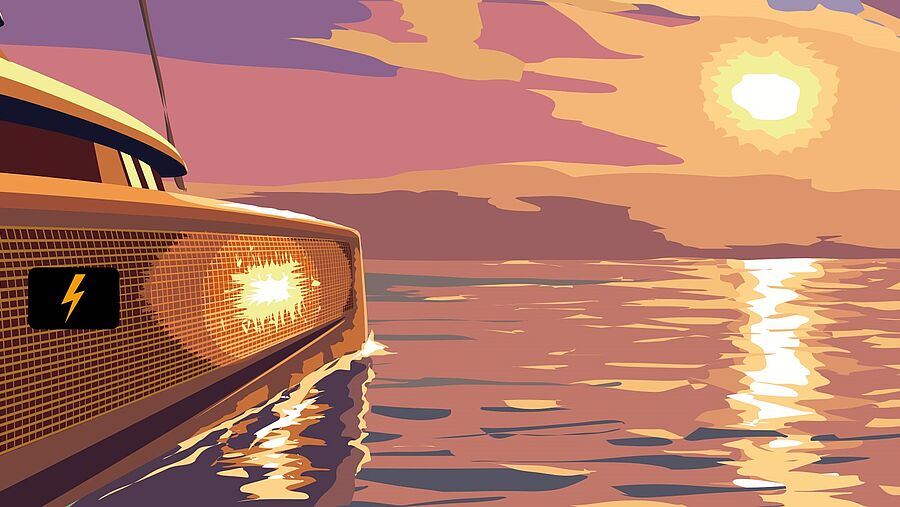 The sea change is also being forced along by proposed new regulations. The municipality of Amsterdam, for example, has stipulated that all boats must switch from diesel to electric power by 2025. In Norway, fjord areas classified as World Heritage sites will be restricted to zero-emission vessels in 2026. Four years after that, Norwegian waters will be restricted to vessels with low- or zero-emission technology.
At the very large end of the market, the superyacht industry is also moving towards less reliance on fossil fuel, and many of these conversations being driven by owners themselves. Some believe that hybrid propulsion is the future here, allowing the range, speed and hotel loads required with electrical and diesel propulsion systems operating side by side. Powering large yachts by electric power alone is likely many years away.
Daniel Nerhagen of Tillberg Design says: "This is a big topic and it comes up at every client meeting. How can you be self-sufficient? Wind turbines, solar panels, battery packs and fuel cells – how to extend your range or reduce fuel consumption and run the generator for only a few hours per day."
But he adds: "These systems require more space than traditional diesel engines so it's always a question to look at your priorities." But, he adds: "For many people, the technology is a showcase. This kind of reason built into a yacht, it will accelerate – that's inevitable."
For sailing yachts, there is 'free' energy to be generated by turning a propeller while sailing. The XXX superyacht Black Pearl is an example of this, very nearly producing enough power to run the yacht when it is sailing at a decent speed. Then there is the possibility of taking the energy generated and making hydrogen for fuel.
Fuel cell technology is being looked at closely by designers, among them Bill Dixon of Dixon Yacht Design, who says: "On one of my potential projects, a client has already investigated fuel cell technology. In the scheme of things, a large yacht of 100m can go fast and generate a lot of free energy. If you really want to do something incredibly special, this is the way to look at one future for large, eco-friendly superyachts.
Among yards, builders San Lorenzo has decided to build a forerunner of its own. A 50m yacht equipped with hydrogen fuel cells is being built for CEO Massimo Perotti. Hydrogen is potentially the cleanest of all fuels, producing only water. The fuel cells generate power from methanol.
However, this will not be an all-green solution; it is one way of accomplishing a diesel-electric system. The fuel cells will generate power for the yacht's hotel loads, but not the propulsion system.
San Lorenzo was one of the first companies to adopt a hybrid system in 2015. The Italian yard built its 32m SL106 with a diesel-electric e-Motion hybrid system. The same system is now being offered on the larger Sanlorenzo 58 Steel and 62 Steel, and will be offered on the company's 50 Alloy and 58m 1000Exp expedition yacht later this year. This system uses twin MTU diesel engines alongside electric motors powered by variable-speed generators.
Such projects are no longer the exceptions. Baltic Yachts recently announced that it is building a 110ft performance cruising sloop with an electric drive. The Danfoss electric propulsion unit, powered by lithium-ion batteries, will drive through a conventional shaft. Charging is from twin 129kW diesel generators designed to meet IMO Tier 3 emissions regulations.
'The benefits of the electric drive include vastly reduced emissions, high levels of efficiency, a quieter drive train with reduced vibration and a modular setup allowing flexibility within the engine room,' says Baltic.
Hydrogen fuel cells are an option as part of the energy mix and may become more practical if fuel from renewable sources becomes more widely available. Such systems are already being used on trucks, trains, cars and even some planes.
One example is the Energy Observer, a zero emissions 100ft converted racing catamaran that sports twin solid wingsails, a drivetrain powered by comparatively small 45kW motors and several energy sources: a lithium battery bank fed by large solar arrays, hydrogeneration and a marinised hydrogen fuel cell originally developed by Toyota for its hydrogen-powered Mirai car.
The project team notes, however, that 'electric hybridisation, or even in diesel-hydrogen-electric hybridisation, appears today as the option most likely to reduce as much as possible CO2 and fine particle emissions on board ships, at least until… it will finally be possible to run entirely on hydrogen to meet all of the on-board energy needs.'
Other zero emissions projects are popping up all the time. The first-ever fuel cell powered superyacht is being built by Lürssen. The yacht, which has been commissioned by a 'pioneering and technology-driven client', will also feature a fuel cell driven by hydrogen continuously reformed from methanol.
While hydrogen systems may look attractive, the tanks take up much more space than a diesel equivalent system. Ben Pym of UK-based Engineered Marine Systems, says: "Hydrogen takes up 13 times more space than diesel for the same power output. At larger sizes, say 150ft upwards, which have more the space you can start to justify taking the entirety of the bilges, but then you have to ask if you are willing to give up [some of] the lower decks for that. But there are some projects that naval architects that have put proposals out there."
However, for some boats that do not see high loads or need a large range under motor, hydrogen fuel cells may be one solution. Solo sailor Phil Sharp has set up Genevos Power Modules and hopes to do the Vendée Globe round the world yacht race to showcase its abilities.
"There is really a very big range of yachts it is applicable for, and it can be used for propulsion power or auxiliary power," he says. "Multiple modules can be linked together in parallel to achieve desired power output and, in effect, can be used to feed anything from a 35-40ft sailing yacht to a superyacht with 250+ kW propulsion.
"You have to take into account that you can get away with an electric motor with 30-40% less power than an equivalent diesel due to greater torque. And then also, hydrogen fuel cells can be used in parallel with a battery back to reach peak powers for limited periods (up to 1 hour typically) for a propulsion system that is much higher power than the total fuel cell power."
Hydrogen fuel cells make no noise or vibration, and are essentially maintenance free. Eventually, if infrastructure is built out to provide hydrogen produced from excess wind energy, for example, this really will be a green means of transport. Using methanol as source fuel, has some downsides, While it can be stored in liquid form without being pressurised, it is comparatively expensive in its renewable form and is less energy dense than diesel. You would need around 2.5 times more methanol than diesel for the same range. That would require larger tanks, which in turn impacts on the interior space and accommodation designers have to play with.
Do all the green options add up?
If you are building or refitting a boat right now, which of the many alternative energy and propulsion systems are most suitable and cost-effective? The answer is a complex one: with each solution currently available there are downsides that need to be considered.
Ben Pym of Engineered Marine Systems, a UK-based company that works on systems for everything from racing yachts to expedition yachts, commercial vessels and hybrid powered wind farm crew transfer vessels, says the question every owner needs to ask is: how much extra would you spend, and how much would you alter how you expect to sail or live on board in order to go green?
'With all these projects are downsides over diesel – diesel systems are enormously energy dense and efficient, don't take up much space, are very efficient and not very expensive. You need owners with very deep pockets who are willing to accept limited range, yet no one even sees or knows you are being green. It is important, though, and I think that will naturally shift with a younger generation and as technology develops."
Matt Cherry, also a systems engineer at Engineered Marine Systems, recently completed a dissertation on alternative fuel technologies, sums the current situation up like this:
"Large vessels which can accommodate large storage facilities will be able to use hydrogen and ammonia in the future, hopefully. Although the infrastructure to produce these fuels renewably will need development. Small vessels which can't accommodate these storage facilities will be limited to using battery technology, and due to the much smaller energy density, these vessels will be severely limited in journey distance and time.
"Ultimately, the vessels that are going to struggle most with adopting alternative fuel technology adoption in the future are those that are too large for battery technology, and too small for hydrogen storage facilities. Technological advancement on both sides of this will shorten the gap through new fuel cells, battery compositions and storage facility upgrades, but it's a pretty large gap, and will likely remain so far into the future."
While there are rapidly advancing plans for decarbonising shipping and ports around, we are a very long way from an infrastructure that could supply hydrogen, for example. Hybrid systems would allow yachts to venture to any destination, no matter how remote; fully 'green' systems would be severely constrained in range and scope.
So for the foreseeable future, diesel systems are key in the marine world. However, there are increasing options for owners can using with fuel cells and electric drives to extend periods of silent running and self-sufficiency. Solar, wind turbines and water turbines can all make a contribution. More efficient batteries and generators allow crews to reduce the run time of diesel plants. A bigger change is coming. The hybrid and regenerative technologies we are starting to see in superyachts today are important pioneers, and they are just the forerunners.